Recently engaged or planning on hitting that milestone soon? We're so excited to share with you a step-by-step timeline and guide to selecting your wedding invitation suite with Basic Invite! Learn more about what sets their company apart from the rest, and what they see as up-and-coming trends for the season!
How was Basic Invite started?
Basic Invite was started after the owner was shopping for wedding invitations for his own wedding. It was during this process that he realized the options were very limited and were available as is – meaning no customization options. So, he decided he wanted to change that and began the online stationery design company now known as Basic Invite.
"…we strive for perfection and always stay ahead of the trend curve. We are consistently adding new designs and updating our system to work as effectively and user-friendly as possible."
What sets Basic Invite apart from the competition?
We have quite a few features that set us about from our competition. Our range of color choices is one of our biggest draws. We offer 180 custom colors on every single design! Other companies allows color customization, but only offer certain colors on certain designs and just a handful of options per card. So, we pride ourselves on that.
Currently, we are the only online stationery company that offers clear wedding invitations and save the dates. Our clear collection is new and wildly popular with brides. These are made from clear vinyl card stock and printed with bright white ink. We offer this line in both clear and frosted.
In addition to that, we strive for perfection and always stay ahead of the trend curve. We are consistently adding new designs and updating our system to work as effectively and user-friendly as possible.
You offer so many different styles and designs, where does your creative team draw its inspiration from?
We partner with freelance designers from all over the globe. So, we are always adding new design trends that may not even be trending in the US. Our designers are great at trend spotting and often use design trends happening in other creative areas as inspiration for their designs.
Some of our most unique and popular looks are our watercolor washes, geode and agate, and of course our plethora of floral designs.
"Our most popular product is definitely our wedding invitations. That's what Basic Invite is built on and what we are best known for. "
Do you have any tips or suggestions on the etiquette a couple should follow in terms of wording on their invitations?
Of course! In fact, we have an entire page dedicated to etiquette. To learn more click here. Etiquette has definitely taken a turn toward the less formal approach. With modern families and a vast variety of situations, proper etiquette isn't as vital as it used to be. With that said, being clear with your information and correct in who you are addressing to is most important.
What do you suggest as a timeline for sending Save the Date cards and the formal wedding invitation suite?
At 6+ months, order your save the dates. Send them out 4+ months prior to the big day. For wedding invitations, we suggest starting to shop for designs and order samples at about 8+ months. Finally, placing your order at 4+ months and sending them at about 3+ months. That's based on a one-year engagement, so if you're planning a quicker walk down the aisle we would suggest getting right down to business and sending save the dates no longer than three months prior and invites shortly thereafter.
What is your most popular or favorite product?
Our most popular product is definitely our wedding invitations. That's what Basic Invite is built on and what we are best known for. Personally, I love our personal and business stationery. It's completely customizable just like our other products and it's just too cute! Foil is always essential too!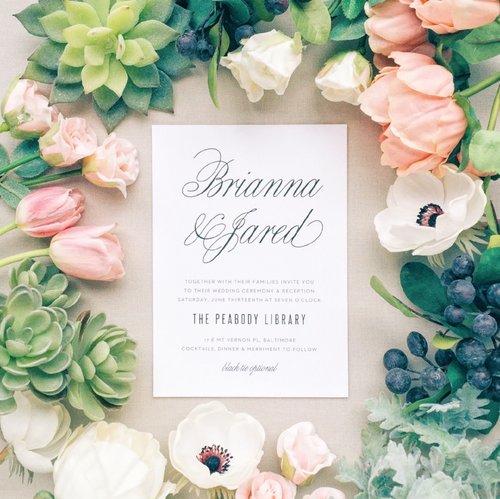 The Selection Process
When a couple gets engaged, a long list of to do's automatically comes along with it. Guest lists, venues, menus… the list goes on eventually making its way to wedding invitations. That's where Basic Invite comes into play. Being an online stationery design company, couples often start "window shopping" for inspiration and inquiring about the process before they are actually ready to order. With that said, they do have an average timeline laid out for couples to help them stay on track with the process and help ensure their wedding invitations are perfection.
Brides-to-be tend to start looking for their save the dates right away. More so out of excitement than necessity as a date isn't always set immediately. And that's something Basic Invite encourages because the sooner you get started with design ideas and the better couples familiarize themselves with the website, the smoother the process will go.
Now, to break it down! Based on a one-year timeline, below is a checklist of what the experts at Basic Invite have found works best.
8+ months: Choose your colors and order a custom sample
Basic Invite offers 180 colors and all of their designs are completely customizable, so picking your colors is a great place to start! That way you aren't overwhelmed when the time comes to place your order.
Order a custom sample. This way couples have a chance to experience the entire ordering process from start to finish. And seeing the product first hand will help ensure that the couple knows that the products are as high-quality as they imagine them to be. Also, who doesn't love a good sample?!
6+ months: Order your save the dates.
This will leave plenty of time to design, order, and receive your save the dates and enough time to get them into their envelopes, addressed, and sent out without feeling rushed.
4+ months: Send your save the dates and order your wedding invitations
By this time you have your save the dates ready to go and it's time to move on to the main course. Here is a couple's chance to really choose the wedding suite of their dreams. Sticking with the same design as your save the date is a common theme, but with over 800 wedding invitation designs, choosing a fresh look is never a bad idea! Try channeling your wedding day aesthetic to give your guests a peek into your wedding style and start the excitement early!
3+ months: Send out your invitations and order your wedding day stationery
Basic Invite always suggests utilizing their address printing services. This way you don't have to hand address hundreds of envelopes yourself and also will make for a clean crisp look right off the bat.
Wedding day stationery includes programs, menus, wedding guestbooks, and thank you notes.
A couple of extra tips:
A rule of thumb is to send out thank you notes about two weeks post-wedding. That way your memories are fresh in your mind and will make your thank you's that much more personal. Wedding guests will expect appreciation and will love receiving custom thank you cards.
If a couple is planning a shorter engagement, adjust the timeline accordingly. Skipping save the dates and going straight to the wedding invitations is one suggestion. Or including your save the dates within a wedding suite is another.
Invitation Suite Trends
Before any of you newly engaged couples head over to Basic Invite, let's talk wedding invite trends!
Watercolor Washes
In past seasons, we saw watercolor washes flood the design gates and so far we aren't anticipating any changes there. Watercolor wedding invitations are such a sweet and romantic choice and you can make them work for almost any wedding style and definitely during any season of the year.
Rose Gold Foil
Of course the classic gold and silver foil options are timeless trends, but we are seeing a rise in rose gold foil for the upcoming wedding season. Rose gold is trending in general and brides are going to go crazy over this come the new year. Foil is available in flat or raised and adds a chic touch to any invitation.
Geode and Agate
Modern and artsy. Think art deco, rich gemstone color schemes, and marble patterns. One of Basic Invite's personal favorite upcoming trends! This is a great choice for the modern bride or a couple who likes an edgier yet dreamy look.
All Inclusive
Wedding suites are great when you house them in one of Basic Invite's pocket envelopes because it keeps each piece stacked nicely in place and makes for a clean and organized look for your guests. But next year, Basic Invite is predicting that all inclusive seal-and-send wedding invitations will be the new pocket envelopes. These will be so nice because of their all-in-one convenience. Guests will love having to only keep track of a single wedding invitation with all of the vital details enclosed rather than holding onto multiple pieces that may get lost along the way. Stay tuned for more!
This post was sponsored by Basic Invite. Interested in your own sponsored post? Email us at partnerships@parsimonyinspired.com for more information.